MARRICKVILLE UNDER 6 – 7 PROGRAM
In 2023, the MFC 6-7s Program will continue with a 3v3, 4 goal, small sided game format. The squad size will be 12 players, split into 3 teams of 4 players.
What is the program?
Developmentally Appropriate Playing Format
The main objective of the 3v3, 4 goal game is to provide a developmentally appropriate playing format that will engage and teach children to play the game of football. Children will learn by playing a game adapted to the cognitive and physical capacities of children in different developmental stages. This playing format is designed to afford the opportunity for more ball touches, more dribbles, more passing, more shots and more goals. By extension, this ensures children are always 'in play,' thereby maximising engagement, fun and enjoyment.
Role of the Coach
The 3v3, 4 goal game is also structured to reduce the dependence on coaching expertise and interventions, with coaches instead becoming guides who facilitate the playing of the game. As a result, the game becomes the  primary teacher, creating an engaging environment in which children in and through play are central to the decisions they make and the creative solutions they have.
Benefits of the Game
Players develop a love of the game and reduce potential for dropouts.
High level of engagement through more game-specific touches of the ball, more time enjoying the game and more goals scored.
Playing games creates an environment that facilitates discovery and creativity.
Age appropriate game play and hence learning.
Less dependence on coaching interventions to develop understandings.
Promotes players feelings of capacity and confidence.
Players develop technical ability related to a game realistic context.
Players develop perception, decision making skills, understandings and hence game intelligence.
Rules of the Game
The basic version of the game sees two teams of three try to attack two mini goals on a small pitch. The game also has some basic rules:
The Field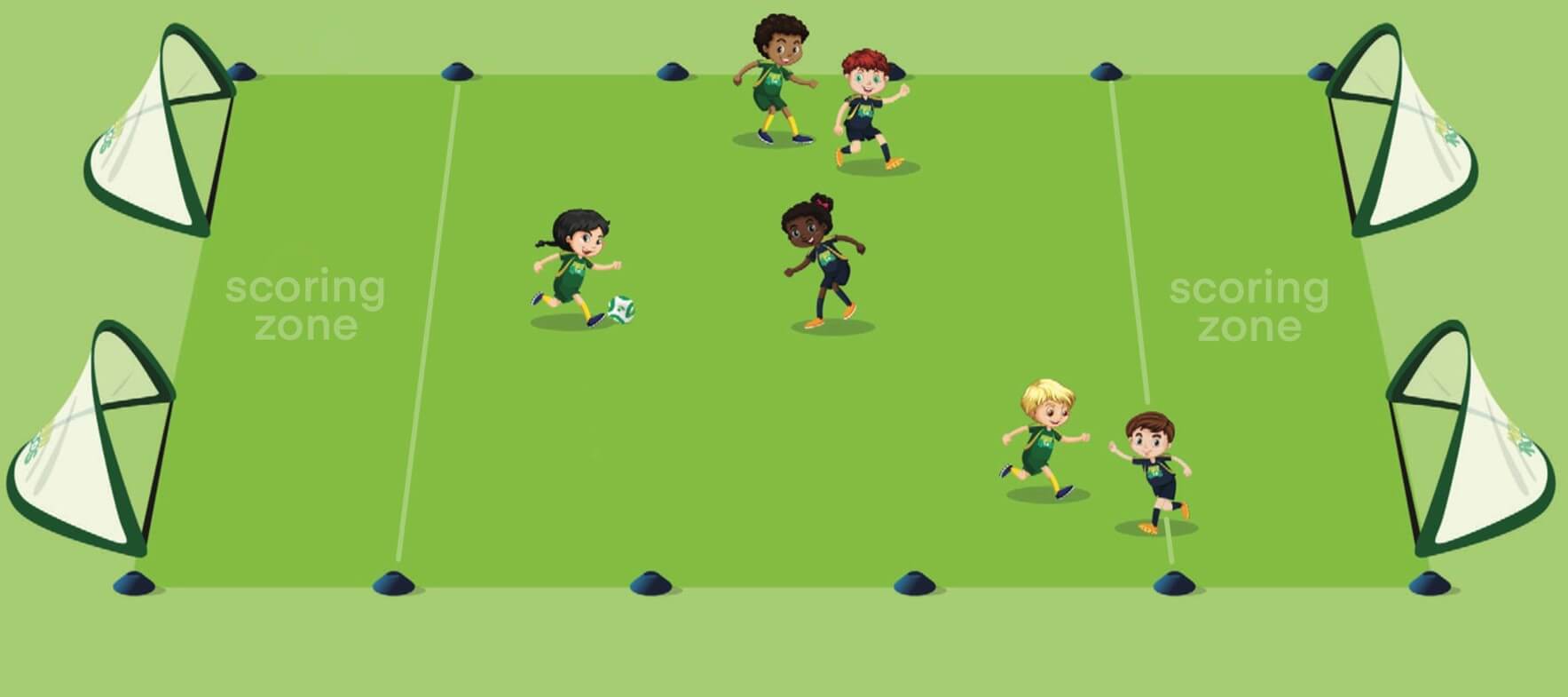 Substitutes
Each team has one substitute.
Every time a team scores the substitute must replace a teammate.
If no goals are being scored, players rotate every 2 to 3 minutes.
Goals
Goals can only be scored inside an attacking area.
The attacking area is marked by a line parallel to, and 3-5m from, the end line.
Restarts
No throw ins.
Player who kicks the ball out must get the ball.
Players may pass or dribble the ball in.
When a goal is scored or the ball goes over the end line, play is restarted from anywhere in the scoring zone.
Opposing players must stand back a minimum of 5m at a restart of play.
Game Time
Games are 10 minutes.
There are no halftimes.
After each game, one team will move to an adjacent field to play a new team.
Teams my take a drinks break after each game.
What is the Schedule?
From the first Saturday of the season, and running for 6 weeks, all teams will play the 3v3, 4 goal games
From Week 7 onwards we will adopt Football Australia's Miniroos Session Guide. This guide allows for 3 x 3v3 games and 2 Fun Football games per week:
Small-sided Game
(with variation)
FUN Football Game details can be found in the Miniroos Session Guide.